Our Veterinarians
The Lifetime Animal Care Center team of skilled veterinarians welcomes you to our practice. Proudly serving the San Diego area. At Lifetime Animal Care Center, it is our daily privilege to provide quality vet care to your cherished pet, with compassion and competence. We hope to ensure a positive impact on our patients, pet owners and the local community.
Corey Cole, D.V.M.
Managing Veterinarian
A San Diego native, I joined Lifetime in September 2017 as an experienced & motivated veterinarian with a unique education and clinical background. I graduated with honors from UC Davis in 2005 and then spent two years in advanced training at the Veterinary Specialty Hospital in Sorrento Valley. After a rotating internship at VSH, I spent another year of intensive training in critical care, emergency, anesthesia, and pain management in an ICU setting.
I then spent over 5 years as an associate veterinarian at the San Diego Humane Society, where I developed my skills in internal medicine and surgery, including many advanced soft tissue and orthopedic surgeries. I am also experienced, trained, and have a special interest in ultrasound and endoscopy.
While serving as a Clinical Assistant Professor with Western University, I mentored students during their external rotations and led the organization of a shelter medicine internship at San Diego Humane Society, mentoring two intern classes during my time at the shelter.
I serve as a clinical advisor for the FACE Foundation for Animals, a local non-profit organization which helps families in financial need and I enjoy working for high-volume spay and neuter organizations in the San Diego Area.
In my spare time, I spend time with my family, including dogs John Wayne & Karma. I also play softball, golf, and love the beach.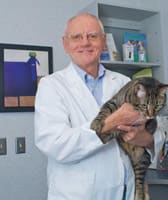 A.J. Hardy, D.V.M.
My interest in animals started while growing up in Wisconsin. We lived outside of Milwaukee and had a menagerie of chickens, ducks, dogs, cats, and horses. While I enjoyed those "family pets" my real respect for animals came through the many summers I spent on my uncle's dairy farm. Working with the cows and calves and seeing how well they were treated and cared for made me want to somehow be involved with animals.
I moved to California after high school and eventually received my degree in veterinary medicine from the University of California, Davis. I felt I owed something to the Wisconsin dairy industry for establishing my interest in animals and moved back there to work as a dairy vet. After four years, my wife Margaret and I decided that California had more opportunities for our family than Wisconsin, so we returned, moving to San Diego in 1984.
I purchased this practice, then called Clairemont Square Veterinary Clinic, in 1986. We started with one doctor and two veterinary assistants. Since then, through the overwhelming support of our clients, we have been able to expand the hospital and have grown tremendously.
What I enjoy most is getting to know my clients, seeing what their pets mean to them and how they bring quality to each others' lives. I enjoy helping the pets in any way I can to make their lives, and the lives of their owners, more comfortable. I currently live in Scripps Ranch with my wife, Margaret.
Degrees and Memberships:
B.S. Biochemistry, University of California, Davis, 1976
D.V.M. University of California, Davis, 1980
San Diego County Veterinary Medical Association
California Veterinary Medical Association
American Veterinary Medical Association
American Animal Hospital Association
Outside interests:
soccer, music, baseball, reading